Art to Wear
I make one-of-a-kind frivolous cocktail hats, elegant little purses, and luscious velvet evening wraps that can turn your jeans and T-shirt ensemble into an outfit for the opera.
I work with silk, silk-rayon blends, cotton, some vintage and recycled fabrics, and bits of offbeat tencel, bamboo, or polyester, with feathers, beads, ribbons, and random found objects used as ornamentation.
I use both hand and machine sewing construction methods. I've been sewing and making art to wear for many years. My work is strongly influenced by the crazy-quilting tradition, and I ratchet back and forth between the excessively decorated and the deceptively simple.
Whimsical
My work is available in person only. Currently, I work on whim and do not take orders for custom garments. My whim might suit you; take a look.
Garment Care
I machine-wash all fabrics before I make the garments, so you can launder the velvets as you choose: gentle machine-wash and dry, hand-wash and hang dry, or dry-clean. If you don't want to iron, make sure to remove the velvet from the dryer as soon as it's dry.
If you do iron, use a needleboard or a thick terrycloth towel to pad the ironing board and iron the velvet face-down only (that is, your iron touches only the back of the fabric, which is made of silk, not the pile of the fabric, which is made of rayon and can be more easily damaged). For the garments I wear, I generally iron only the hems and seams unless the garment body has acquired creases.
Meet the Cocktail Hat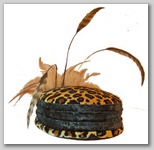 Look, this is a cocktail hat. It's frivolous and fragile. You can't wash it or dry-clean it, so you have to take care to keep it from getting dirty or damaged. You can spot-clean it carefully if you have to. If you use hairspray, make sure your hair is dry before you put your hat on. Don't wear it in the rain unless you have a really good umbrella. Store the hat in its box, gently wrapped in acid-free tissue paper.
On the other hand, it is a cocktail hat, and it wants to go out and have a good time, so indulge it.
- Kate Schaefer